Would you like to have your products & services listed with us? Click here to read about the benefits of advertising with our company. Submit your company information via our COMPANY
LISTING FORM.
Hats
Milinery, Bridal,
Dressy, Classic, etc.
This site is best viewable in Internet Explorer 4.0 and Netscape 6.0 or later - Enjoy.


**We can calculate your Hebrew birthdate or any Hebrew date for you, if you would provide us via e-mail with your secular birthdate, or any secular date & year, for which you would like to find the corresponding Hebrew date.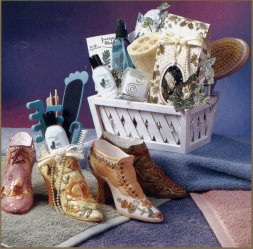 "My Fair Lady" & "Pamper Her" Gift Sets
*Perfect for new brides, new mothers, birthdays,
anniversaries, mother's day or anytime you feel like pampering a special woman in your life.

My Fair Lady: This dainty Victorian style ceramic shoe holds everything she needs for a relaxing manicure and pedicure. Includes a nailbrush, toe separators, a foot file, nail files, cuticle sticks, and a 2 oz. bottle of lotion. Later use the ceramic piece on your dressing or night table.
Buy It Small #MF361 - $26.95
Order Form
Pamper Her: Treat her for the optimum indulgence, a personal gift basket filled with relaxing fragrances and bath amenities, guaranteed to pamper and soothe. Perfect for anniversaries, birthdays, Mother's Day, or just to say "Thinking of You." (Medium size shown.)
Buy It Medium #PR372 - $54.95
Buy It Large #PR373 - $64.95
Order Form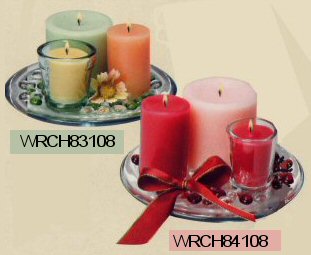 Romantic Moments Candle Garden
The soothing glow of candlelight is welcome at dinner, on quiet evenings, or during a long soak in the bath. Each set includes various candles, glass platter, and colorful "stones" to catch the light.
Reg. Price: $45.95 Sale Price: $38.95
Buy It WRCN83108 (Fruit Scent)
Buy It WRCN84108 (Floral Scent)
Order Form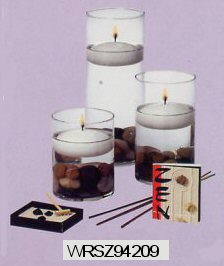 Relax and Rejuvenate - Serenity Zone
A personal Zen retreat - candles floating in elegantly simple glass cylinders over polished pebbles, a miniature meditation garden, insense, and a few words about Zen.
Reg. Price: $55.95 Sale Price: $48.95
Buy It WRSZ94209
Order Form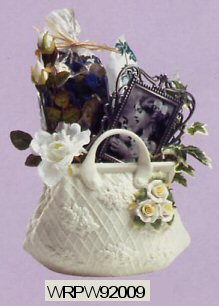 Relax and Rejuvenate - Pretty Woman Personal
Personal, yet proper. This ceremic Victorian purse is embellished with rosebuds-in silk and porcelain-and filled with delicate potpourri and an ornate pewter picture frame for favorite pictures.
Reg. Price: $36.95 Sale Price: $32.95
Buy It WRPW92009
Order Form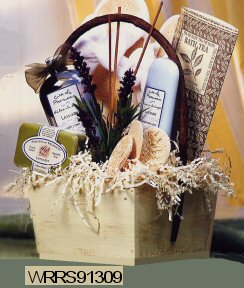 Relax and Rejuvenate - Renewal Spa
Pamper her with a personal course in the three R's: Renew, Recharge, Rejuvenate. Our superbly equipped lavender spa basket soothes the body and soul with milled soap, skin reviving loofah, lavender cream and lotion, bath tea, subtle incense, even spa slippers.
Reg. Price: $75.95 Sale Price: $68.95
Buy It WRRS91309
Order Form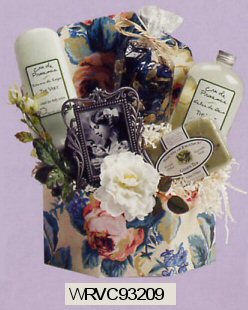 Relax and Rejuvenate - Victorian Charm
Assembled charming gifts for her in a floral Victorian hat box. Imported milled bath soap potpourri, imported body cream, and a lovely vintage-style picture frame.
Reg. Price: $65.95 Sale Price: $58.95
Buy It WRVC93209
Order Form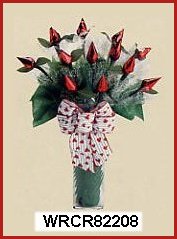 Chocolate Roses Overwhelm someone very special with a Bouquet of one dozen perfect long-stemmed Roses with Chocolate Treats wrapped in each bud. Presented in classic long -stem rose box. (Vase not included) U
Kosher Dairy.
Reg. Price: $55.95
Sale Price: $49.95
Buy It WRCR82208
Order Form
To send more Flowers or Baskets, click here.


Gift Baskets Ordering/S&H Information
Please click here to buy
our Gift Certificates.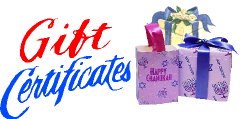 Try our SECURE online shopping cart or order form. If you prefer, you may print it out and mail it in with your check or money order.
We take great pride in our top quality merchandise, special customer care & prompt service.
You are very important to us. We will always treat you with respect & care.


We accept American Express, Visa, Mastercard, Discover and Pay Pal. If you have a Pay Pal account simply go to www.PayPal.com and send funds for the amount of your order to our email address: orders@mazaltovpages.com
Having or had a Simcha, let us wish you Mazal Tov on our Simcha Announcement Board. It is absolutely FREE and we will keep it on for 30 days. Simply fill out the announcement form by clicking here and submit it to us for our approval.
Check out our

specials page, where you can find huge discounts daily. Please click on the Sale Specials link throughout our site.


ITEMS ADDED DAILY!
WE DO ENGRAVING &
CUSTOMIZED
PLAQUES.
CONTACT US
FOR DETAILS


We have a full designer collection line of beautiful bridal accessories, favors, keepsakes, costume and gold jewelry, tiaras, headpieces, evening bags and money holders, gloves, garters, flower baskets, ring bearer pillows, place card holders, wedding party gifts, etc... Please visit our Bridal and Special Occasion Accessories Section.

CloseoutsTrading.com
GLOBAL MARKETPLACE
Wholesale & Retail, click here.