Would you like to have your products & services listed with us? Click here to read about the benefits of advertising with our company. Submit your company information via our COMPANY
LISTING FORM.
This site is best viewable in Internet Explorer 4.0 and Netscape 6.0 or later - Enjoy.


**We can calculate your Hebrew birthdate or any Hebrew date for you, if you would provide us via e-mail with your secular birthdate, or any secular date & year, for which you would like to find the corresponding Hebrew date.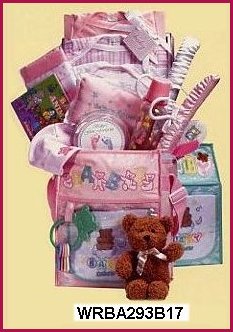 Baby Basket Set
Baby and All get the Little one off to a good start. The roomy tote is thoughfully packed with all things practical and pretty. From essentials like bibs, infant outfits, teething toys, and a Teddy Bear... to suprises like a baby footprint kit, a pop-up book, embroidered cap, even tiny padded hangers.
Reg. Price: $80.95
Sale Price: $75.95
Buy It Boy-WRBA293B17
Buy It Girl-WRBA293G17
(Shown)
Buy It Neutral-WRBA293N17
Order Form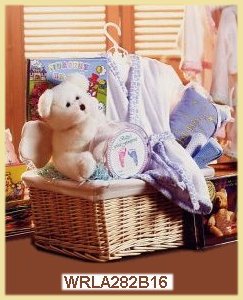 Baby Basket Set
Welcome to the World! Choose the Perfect Cift from this Beautiful Collection Designed for the New Arrival. In a lined Basket we've tacked a Terry Velour robe, a Huggable Teddy Bear, Baby first footprint kit, Decorative door Pillow, and an award-winning CD of soothing lullabies with lyrics to sing to baby.
Med. size: Reg. Price: $60.95
Sale Price: $55.95
Buy It Boy-WRLA282B16
(Shown)
Buy It Girl-WRLA282G16
Buy It Neutral-WRLA282N16
Large Size: Reg. Price: $80.95
Sale Price: $75.95
Buy It Boy-WRLA283B16
Buy It Girl-WRLA283G16
Buy It Neutral-WRLA283N16
Order Form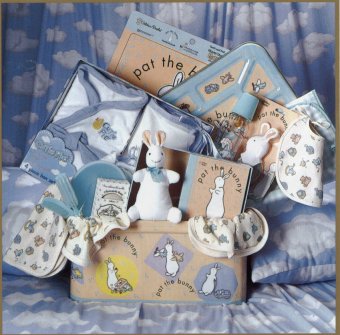 "Pat the Bunny" Gift Set

Baby's first book comes to life! Generations of babies have started to explore their world with the wonderful, interactive Pat the Bunny book. This gift set includes the book, a large-piece puzzle for little hands and Pat the Bunny plush. Other useful items include a changing pad, receiving blanket, baby bathrobe, wash cloths, a cooling teether and more. Pat the Bunny contains all the elements to stimulate children's interaction with their expanding world. The arrangement comes in a large reusable storage tin with lid.
Buy It XLarge #PB194 - $99.95
Order Form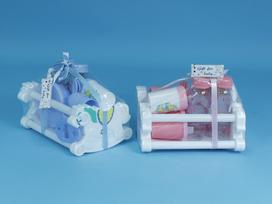 Rocking Horse New Baby Gift
A perfect gift for a new baby! Rocking horse contains a baby bottle, cereal bowl, baby cup, teething ring and more goodies. The rocking horse is available in pink or blue and comes with a matching color ribbon and a gift card.
Reg. Price: $25.00 (ea.) Sale Price: $18.00 (ea.)
Order Form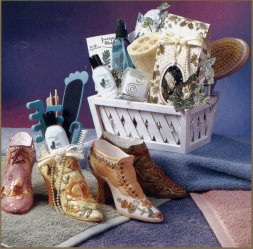 "My Fair Lady" & "Pamper Her" Gift Sets
*Perfect for new brides, new mothers, birthdays,
anniversaries, mother's day or anytime you feel like pampering a special woman in your life.

My Fair Lady: This dainty Victorian style ceramic shoe holds everything she needs for a relaxing manicure and pedicure. Includes a nailbrush, toe separators, a foot file, nail files, cuticle sticks, and a 2 oz. bottle of lotion. Later use the ceramic piece on your dressing or night table.
Buy It Small #MF361 - $26.95
Order Form
Pamper Her: Treat her for the optimum indulgence, a personal gift basket filled with relaxing fragrances and bath amenities, guaranteed to pamper and soothe. Perfect for anniversaries, birthdays, Mother's Day, or just to say "Thinking of You." (Medium size shown.)
Buy It Medium #PR372 - $54.95
Buy It Large #PR373 - $64.95

Gift Baskets Ordering/S&H Information

Please click here to buy
our Gift Certificates.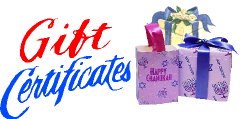 Try our SECURE online shopping cart or order form. If you prefer, you may print it out and mail it in with your check or money order.
We take great pride in our top quality merchandise, special customer care & prompt service.
You are very important to us. We will always treat you with respect & care.


We accept American Express, Visa, Mastercard, Discover and Pay Pal. If you have a Pay Pal account simply go to www.PayPal.com and send funds for the amount of your order to our email address: orders@mazaltovpages.com
Having or had a Simcha, let us wish you Mazal Tov on our Simcha Announcement Board. It is absolutely FREE and we will keep it on for 30 days. Simply fill out the announcement form by clicking here and submit it to us for our approval.
Check out our

specials page, where you can find huge discounts daily. Please click on the Sale Specials link throughout our site.


ITEMS ADDED DAILY!
WE DO ENGRAVING &
CUSTOMIZED
PLAQUES.
CONTACT US
FOR DETAILS

CloseoutsTrading.com
GLOBAL MARKETPLACE
Wholesale & Retail, click here.


*Our Food Gift Baskets are Certified Kosher. (U)(K)
**Please feel free to call & check the availability of unlisted design styles.

We also imprint party napkins. For details,

Contact Us:
Tel: (954) 894-8775
Fax: (954) 416-6684
E-mail: Info@MazalTovPages.com
Monday - Friday 10:00 A.M. - 5:00 P.M. (Eastern)

*No returns on perishable, personalized and/or special order items. *Prices are subject to change without notice.*Prices are subject to change without notice.
*WE WILL NOT BE UNDERSOLD!
If you found an item on our site that you have seen cheaper somewhere else,
contact us and let us know. Please provide us with the business name,
web address and item # and we will do our best to either match or beat that price.
(*Certain exclusions apply. Not applicable on previous purchases or orders.)

Send a FREE Online Greeting / Invitation to a friend or loved one, click here.
Please sign our Guest Book, click here.
Home - About Us - Invitations - Judaica Store - Party Planning Services - Advertising Benefits
Contact Us - Disclaimer - Privacy Policy - Merchant Policy
Web Design by Irene N. Designs. Please contact us for more information.
Please click here to view inspirational work written by the site's president.

Copyright © 2000 - Present MazalTovPages.Com, Inc. All Rights Reserved.